Cathy Priest Canada World Handsome Female bodybuilders images
Cathy Priest from Canada presented a well defined muscular physique at the Ms. Olympia Show 2003.
Cathy LeFrancois (Cathy Priest) was born on February 12, 1971 in Amqui, Quebec. Cathy Priest started figure skating at age six, but after two years Cathy Priest switched to speed skating, which she found more satisfying. Cathy Priest eventually won five medals in the Quebec provincial championships, an accomplishment that has not been equalled since. Cathy attended Notre-Dame-de-Foy in Quebec.
Cathy Priest earned her pro card in 1995 when Cathy Priest won the overall title at the CBBF Canada Cup, and made her pro debut at the Jan Tana Classic later that year. At a height of 5'2″, she competed exclusively as a lightweight once weight classes were introduced in pro shows in 2000. Her best achievement as a professional was winning the lightweight class at the 2003 Ms. International.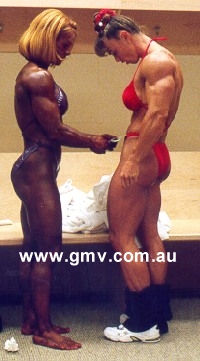 1990 Québec Metropolitain regional amateur bodybuilding – 2nd (LW)
1991 CBBF Easter Canadian amateur bodybuilding championship – 1st (LW)
1993 CBBF Canadian amateur bodybuilding championship – 2nd (LW)
1994 CBBF Canadian amateur bodybuilding championship – 2nd (MW)
1995 CBBF Canada Cup III amateur bodybuilding championship – 1st (MW & overall)
1995 Jan Tana Classic – 12th
1996 Ms. International – 14th
1996 Jan Tana Classic – 8th
1999 Ms. International – 19th
1999 Jan Tana Classic – 8th
1999 IFBB Women's Extravaganza – 5th
2000 Ms. International – 3rd (LW)
2000 IFBB Ms. Olympia – 4th (LW)
2001 Ms. International – 4th (LW)
2002 Ms. International – 4th (LW)
2002 GNC Show of Strength – 2nd (LW)
2003 Ms. International – 1st (LW)
2003 IFBB Ms. Olympia – 4th (LW)
2005 IFBB Europa Supershow (figure) – DNP
2005 Sacramento Pro Figure – DNP
2006 IFBB California Pro Figure – 12th
2006 IFBB Atlantic City Pro Women's Bodybuilding – 9th
2007 Ms. International – 10th
2007 Sacramento Pro – 2nd (LW)